Care Team Lead (gn)
Anstellungsart: Befristetes Arbeitsverhältnis
Berufserfahrung: 1 - 3 Jahre
Customer Service, Leitung & Management
GoodCompanies sind Unternehmen, die mindestens ein Nachhaltigkeitsziel verfolgen und gegen kein Ausschlusskriterium verstoßen. Sie können Stellenanzeigen inserieren und haben ein Company Profil im Listing. Erfahre mehr über unseren
Auswahlprozess
GoodCompanies sind Unternehmen, die mindestens ein Nachhaltigkeitsziel verfolgen und gegen kein Ausschlusskriterium verstoßen. Sie können Stellenanzeigen inserieren und haben ein Company Profil im Listing. Erfahre mehr über unseren
Auswahlprozess
We dream of a World with no Food Waste
Intro
At Too Good To Go, we dream of a planet with no food waste.
Imagine if there was something we could all change today that would reduce global warming by 10%. That's how much food waste contributes to the climate crisis.
We are on a mission to change that - are you with us?
Our app connecting businesses with unsold food, and consumers willing to buy at a discounted rate has grown since 2016 to become the biggest in Europe, with over 81 Million users, and more than 272 million meals saved.
We're proud of what we've achieved so far, but we are just at the start of our journey.
We're looking for an exceptional and passionate Customer Care Team Lead to help us grow and develop our Global Care Team. This role requires going to our Berlin office 4 times per week.
This position is a fixed-term contract until August 2025, with the possibility of extension.
Aufgaben
Your mission
Reporting to the Associate Director of our Global Care department, you will coach and inspire a team of up to 15 Care Specialists across various countries with a focus on DACH and Poland. Your task is to nurture an environment where your team members can take responsibility for their performance and personal development.
Your role
You monitor and manage the workload and the performance of your team.
You drive the results of your team members, where everyone focuses on timely and effective responses to customer enquiries.
You maintain the excellent quality of our customer service while inspiring and empowering our customers towards more sustainable behaviour to help us grow our mission.
You foster a dynamic work environment and make sure the Care team is motivated.
You are aligned with the Associate Director of Care and other teams, to ensure customer feedback and issues are acknowledged and followed up on internally and/or with partners.
You act as a Care Specialist yourself: answering enquiries over email, chat, Social media and phone.
You are responsible for the recruitment in your team, acting as a Hiring Manager and working closely with the People & Culture department to ensure we onboard the best talent!
Anforderungen
Requirements
You have previous experience in building and leading a team in Customer Care, Customer Service or Relationship Management.
You have significant experience leading a team remotely.
You bring relevant experience in customer service, preferably both in a B2C and B2B environment.
You have full professional proficiency in English (C1) and German (C2).
You are experienced in using a CRM tool.
You think analytically and are solution-oriented.
You are a first-class communicator and are able to draw on those skills to set the bar high and get team members to perform at their absolute best.
You are a make-it-happen person who is excited to roll up your sleeves – but you also think about the longer-term business implications and requirements.
You are highly organized and can build structures and processes that meet business needs.
You are KPI and performance oriented and like to celebrate successes as a team.
Sustainability is a great passion of yours and something that shines through in your professional and personal experiences.
Our values
We Win Together
We Raise the Bar
We Keep It Simple
We Build A Legacy
We Care
Benefits
What we have to offer
A rare opportunity to work in a social impact company (and certified B Corporation!) where you can see real and tangible impact in your role.
Working alongside an international community of users, partners and 1,100+ colleagues across 17 countries that are on the same important mission.
Personal and professional development opportunities in a fast-paced scale-up environment.
An inclusive company culture where you can bring your authentic self to work
A strong, values-driven team culture where we celebrate successes and socialise with colleagues that care to offer
A beautiful, green office in the heart of Berlin Kreuzberg
10 Too Good To Go vouchers (up to €5)
€44 per month tax-free for fitness (Urban Sports Club) or shopping card (Edenred)
Company pension planning
Mental Health: Coaching sessions with the nilo-health app, plus a monthly mental health free afternoon
Company pension scheme (Zuschuss zur betrieblichen Altersvorsorge)
Our Shareback Program: 3 working days to be used for voluntary work in the food insecurity field
Annual leave: 27 days (+Christmas Eve and New Year's Eve)
And more!
Bewerbungsprozess
How to apply
We take recruitment very seriously, so please carefully read everything we have written above. Please also check our website and international media in order to get a good overview of Too Good To Go.
Submit your CV and Cover letter in English.
Please note that we only accept applications coming through our platform. No CV or Cover Letter will be accepted by email or LinkedIn direct messaging.
Anna Sehlmeyer
Global Talent Acquisition Partner
Too Good To Go GmbH
Bei Too Good To Go träumen wir von einer Welt, in der produziertes Essen auch wirklich auf dem Teller landet. Wir möchten alle Menschen dazu inspirieren, sich für Lebensmittelrettung einzusetzen und haben dafür eine simple Lösung parat: Unsere App verbindet Supermärkte, Bäckereien, Restaurants, Cafés, Kantinen und Hotels mit Konsument*innen, damit überschüssiges Essen auf dem Teller landet und nicht in der Tonne.

Innerhalb kürzester Zeit sind wir zu einem der größten Social Impact Businesses Europas geworden und sind mittlerweile in 17 Ländern tätig. Wir haben weiterhin große Pläne, um die Welt – eine gerettete Portion nach der anderen – ein gutes Stück besser zu machen. Um unsere Mission in ganz Deutschland voranzubringen, suchen wir dich!
Nachhaltigkeitsziele
Gesellschaft fair gestalten
Förderung einer transparenten und gerechten Regierungs- oder Staatsführung
Wir setzen uns dafür ein, dass der Staat verantwortungsvoll mit politischer Macht und öffentlichen Ressourcen umgeht. Die Art und Weise wie in einem Staat Entscheidungen getroffen und politische Inhalte formuliert und umgesetzt werden geht uns alle etwas an!
Förderung von Diversity oder Vielfalt
Wir betrachten die Vielfalt und Heterogenität der Gesellschaft als grundlegend. Egal welches Geschlecht, welche Hautfarbe, welche Religion oder welche sexuelle Orientierung – wir wollen gleichwertige und faire Lebensbedingungen für alle Individuen schaffen.
Bewusst wirtschaften
Förderung nachhaltiger Konsummuster
Unser Ziel ist es, den Konsument*innen Alternativen aufzuzeigen, Verhaltensweisen schrittweise zu verändern und neue Konzepte des Konsums zu verfolgen, um neue gesellschaftliche Werte sowie Raum für nachhaltige Lebensstile zu schaffen.
Umwelt schützen
Reduzierung des Ressourcenverbrauchs
Wir setzen uns für eine ressourcenleichte Gesellschaft ein und fördern eine effiziente sowie transparente Nutzung von natürlichen Ressourcen entlang der gesamten Wertschöpfungskette – vom Produktionsprozess über das Produktdesign und den Konsum bis hin zur Entsorgung.
Schutz der natürlichen Ressourcen
Für uns ist es Priorität, die Erde als ein stabiles Ökosystem zu erhalten, indem wir für den Schutz von Boden, Wasser und Luft arbeiten. Somit setzen wir uns für einen schonenden Umgang mit Naturgütern ein.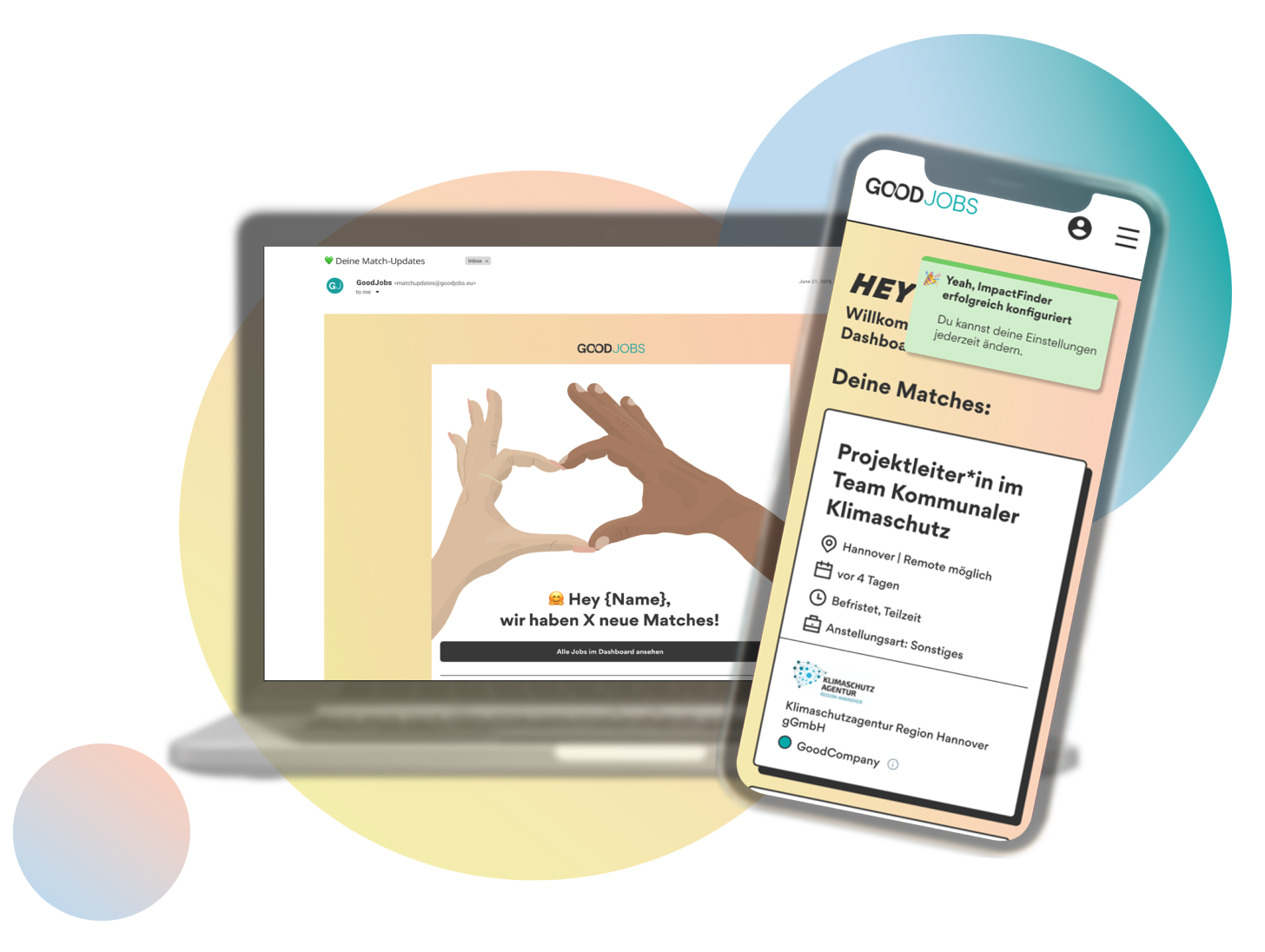 Weitere Jobs, die zu deiner Suche passen, erhalten?
Finde mehr Jobs wie diesen mit unseren personalisierten Jobempfehlungen