Head of Global Consulting Services (gn) - Climate Action
München, Zürich, London, Wien, Den Haag, Paris, Barcelona, Stockholm, Mailand
Anstellungsart: Festanstellung
Berufserfahrung: > 5 Jahre
Leitung & Management, Nachhaltigkeitsmanagement, Umweltmanagement, Beratung
GoodCompanies sind Unternehmen, die mindestens ein Nachhaltigkeitsziel verfolgen und gegen kein Ausschlusskriterium verstoßen. Sie können Stellenanzeigen inserieren und haben ein Company Profil im Listing. Erfahre mehr über unseren
Auswahlprozess
GoodCompanies sind Unternehmen, die mindestens ein Nachhaltigkeitsziel verfolgen und gegen kein Ausschlusskriterium verstoßen. Sie können Stellenanzeigen inserieren und haben ein Company Profil im Listing. Erfahre mehr über unseren
Auswahlprozess

Unsere nachhaltigen Ziele machen uns zu einer von GoodJobs ausgezeichneten "GoodCompany".
- Hilf uns dabei, die Welt etwas besser zu machen!
Intro
ClimatePartner supports companies in climate action: With our solution combining software and consulting, we support our clients in making a contribution to climate action and anchoring it in their strategy. Companies calculate carbon footprints for them or their products, set reduction targets, implement reductions, finance climate projects and are supported by ClimatePartner through to the communication of their climate action commitment. These five steps can be transparently tracked with the label ClimatePartner certified and the corresponding climate-ID page. Where these requirements cannot yet be met, we provide the opportunity to contribute to financing climate projects. This commitment can be demonstrated via the Financial climate contribution label as well as ClimatePartner's established ID tracking.
As we want to take climate action to a new level, we develop high-quality, certified climate projects with our ClimatePartner Impact business division. In addition to the positive effects on the climate, these and the other projects from the ClimatePartner portfolio provide additional benefits for the local communities, guided by the UN's Sustainable Development Goals.
ClimatePartner was founded in Munich in 2006. Our more than 500 employees in Barcelona, Berlin, Boston, Essen, Frankfurt, London, Milan, Munich (HQ), Paris, Stockholm, The Hague, Vienna, and Zurich support more than 6,000 companies from over 60 countries.
Aufgaben
What you will do
Climate change, and the urgency to provide solutions, is driving major changes in corporate strategy across the globe. Citizens, governments, and investors alike are pushing for net-zero carbon and corporates are increasingly demanding our consulting expertise.
Reporting into the Chief Revenue Officer, you will be joining an industry leading organisation as a department head, to lead our global Consulting Services function. You will accelerate organisational growth across our global offices, working closely with the country Managing Directors to build in-country consulting capacity, driving best in class advisory services, ensuring retention of our key accounts and expanding the range of services we provide to our existing customer base. Furthermore, what you can expect:
Building up and leading the global Consulting Services team at ClimatePartner
Representing the Consulting Services activities of ClimatePartner internally and externally
Representing ClimatePartner´s interests on Consulting Services topics in relevant committees, networks, and initiatives
Further developing the Consulting Services portfolio at ClimatePartner
Steering the global Network of Consulting Services within ClimatePartner to ensure a strong global collaboration between the different ClimatePartner country subsidiaries
Ensuring successful project delivery by managing a team of consultants and own customer work
Consulting customers on different topics in the carbon space e.g. reduction target setting, decarbonization roadmaps and supplier engagement projects
Anforderungen
Who you are
Enthusiasm for the topic of sustainability and climate action
At least 10+ years of practical experience in management consulting or a specialist department of a company in a leading position
Advanced knowledge in areas such as Science-Based Targets, Net Zero, decarbonization strategies, Sustainable supply chain management and reporting (CDP, CSRD, TCFD, etc.)
Experience in managing projects to improve the climate performance of a company
Experience in managing international teams and in growing consulting units successfully
Strong communication, presentation and moderation skills and the ability to communicate complex issues convincingly in English and German (desirable)
An affinity for numbers and excellent analytical skills
A strong network in relevant industries, initiatives, and committees
Joy to work in a dynamic international working environment
Entrepreneurial way of thinking and wish to support and develop customers in the long term
Bewerbungsprozess
How to apply
Simply click the application button below to apply to this position. Make sure that you include the following documents in English:
your latest CV
a cover letter
Have any questions? Feel free to contact Maike (jobs@climatepartner.com​).
Creating an inclusive environment is important to us. We provide equal opportunities to all qualified applicants without regard to any aspect which makes them unique. If you need any reasonable adjustments to make the application process accessible for you, we'll do our best to accommodate you.
Find out more about working at ClimatePartner and see all our current job openings at climatepartner.com/career.
We look forward to your application!
Maike
ClimatePartner GmbH
ClimatePartner ist ein führender Lösungsanbieter im Klimaschutz für Unternehmen. Wir kombinieren individuelle Beratung mit einer cloudbasierten Software, die so auf dem Markt einzigartig ist. Unseren Kunden helfen wir, CO2-Emissionen zu berechnen, zu reduzieren und restliche Emissionen auszugleichen. Auf diese Weise werden Produkte und Unternehmen klimaneutral, was unser Label bestätigt.

Wir bieten Klimaschutzprojekte in verschiedenen Regionen und mit unterschiedlichen Technologien und Standards. Besonders wichtig sind uns die zusätzlichen sozialen Effekte der Projekte. Dabei orientieren wir uns an den 17 Zielen für nachhaltige Entwicklung der Vereinten Nationen, den SDGs.

ClimatePartner wurde 2006 in München gegründet, wir sind heute über 400 Mitarbeitende in Berlin, Boston, Den Haag, Essen, London, Mailand, München (HQ), Paris, Stockholm, Wien und Zürich. Wir arbeiten mit über 4.500 Unternehmen in 60 Ländern zusammen.
Nachhaltigkeitsziele
Umwelt schützen
Entwicklung alternativer, umweltschonender Produktlösungen
Unser Ziel ist es, alltagstaugliche Produkte und Dienstleistungen auf besonders umweltschonende Weise oder mit einem direkten positiven Umwelteinfluss zur Verfügung zu stellen.
Schutz der natürlichen Ressourcen
Für uns ist es Priorität, die Erde als ein stabiles Ökosystem zu erhalten, indem wir für den Schutz von Boden, Wasser und Luft arbeiten. Somit setzen wir uns für einen schonenden Umgang mit Naturgütern ein.
Bewusst wirtschaften
Förderung nachhaltiger Konsummuster
Unser Ziel ist es, den Konsument*innen Alternativen aufzuzeigen, Verhaltensweisen schrittweise zu verändern und neue Konzepte des Konsums zu verfolgen, um neue gesellschaftliche Werte sowie Raum für nachhaltige Lebensstile zu schaffen.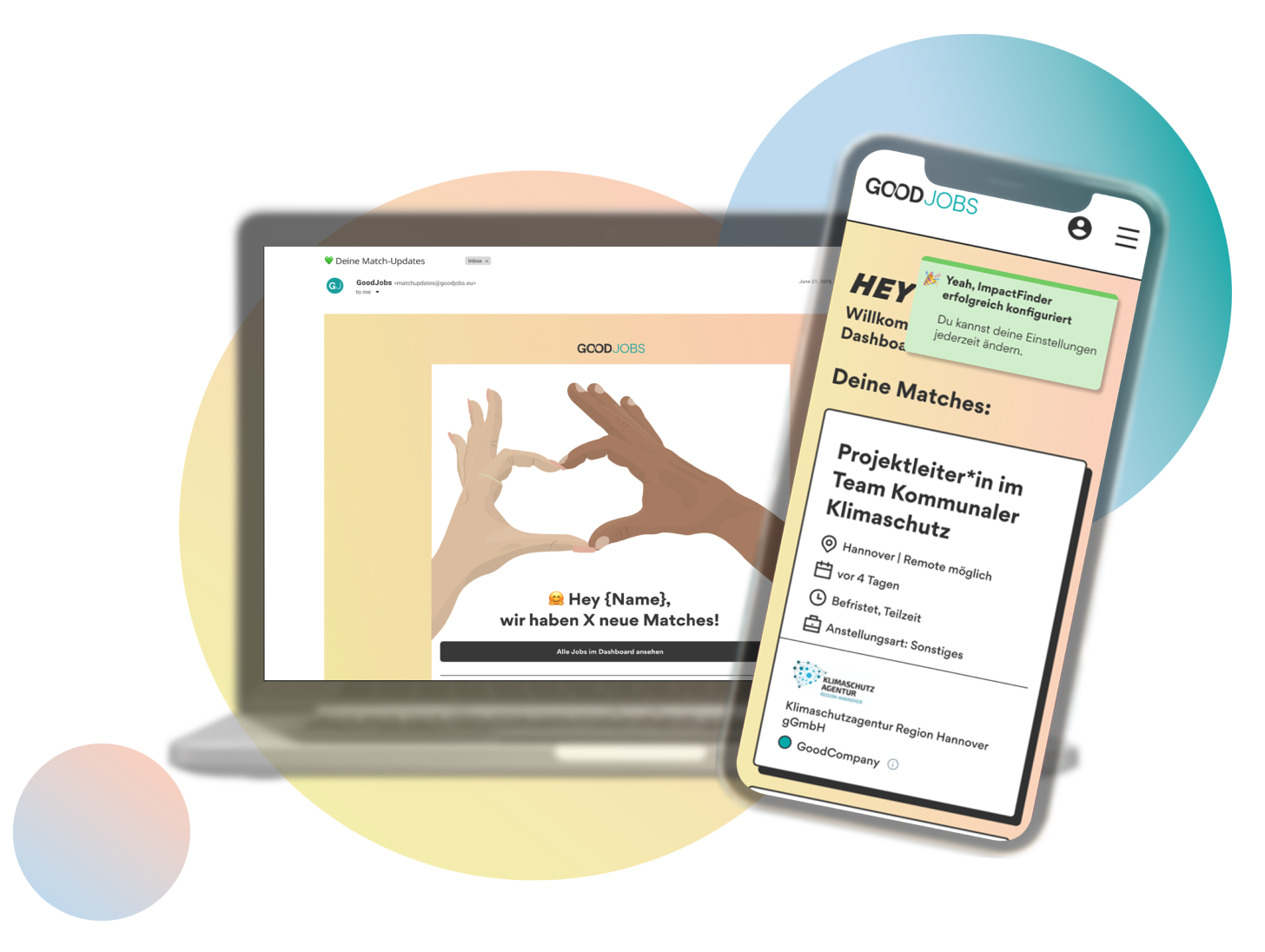 Weitere Jobs, die zu deiner Suche passen, erhalten?
Finde mehr Jobs wie diesen mit unseren personalisierten Jobempfehlungen