Head of Finance (gn)
Anstellungsart: Festanstellung
Berufserfahrung: > 5 Jahre
Finanzen & Controlling, Leitung & Management, Produkt-/Projektmanagement
GoodCompanies sind Unternehmen, die mindestens ein Nachhaltigkeitsziel verfolgen und gegen kein Ausschlusskriterium verstoßen. Sie können Stellenanzeigen inserieren und haben ein Company Profil im Listing. Erfahre mehr über unseren
Auswahlprozess
GoodCompanies sind Unternehmen, die mindestens ein Nachhaltigkeitsziel verfolgen und gegen kein Ausschlusskriterium verstoßen. Sie können Stellenanzeigen inserieren und haben ein Company Profil im Listing. Erfahre mehr über unseren
Auswahlprozess

Unsere nachhaltigen Ziele machen uns zu einer von GoodJobs ausgezeichneten "GoodCompany".
- Hilf uns dabei, die Welt etwas besser zu machen!
Intro
As our


Head of ​Finance (gn),
you will play a critical role for the successful development of reev and its sister companies reev solutions and LOCIO. You have a big part in making sure that we ​become a key international player in a dynamic and fast-paced market environment.

As an experienced finance leader, you possess a growth-driven mindset and foster a culture based on passion, performance, trust and transparency within your team and across ​the companies.
Aufgaben
You take care of our business growth by measuring, monitoring and moving forward growth metrics.
You identify financial and strategic risks and opportunities of our strategy and develop data-driven actions to ensure financial growth of the company.
You are the main counterpart for shareholders, potential investors and financial institutions for fundraising, cash flow and liquidity purposes.
You develop and maintain financial models for data-driven decision-making.
Together with our Data Teams, you prepare and share management financial reports for our internal and external stakeholders.
You ensure high quality and efficient year- and month-end closing cycles as well as scalability and continuous improvement of financial business processes.
You partner with our Europe-wide external accountants and ensure tax compliance
You implement, develop and maintain core financial tools to ensure efficiency of financial operations.
You lead and develop a motivated Accounting and Controlling Team and foster a culture of teamwork and partnership within your team and across all other teams.
Anforderungen
You have an academic degree in Finance, Business Administration, or a similar field.
You have at least five years of relevant working experience in Growth Finance or Consulting, as well as two years of leadership experience. Prior experience at a high growth startup, SaaS business and FP&A is a plus.
You are familiar with core growth SaaS metrics such as ARR, Customer Acquisition Costs, burn-rate efficiency and retention rate and know how to influence them.
You possess operational knowledge of core Accounting and Controlling flows and tools. Familiarity with interacting with international financial regulations is a plus.
You bring strong ownership with a solution-driven attitude and the ability to thrive in a fast-paced and results-oriented environment.
You have experience in leading quality and compliance standards and driving continuous process improvement in financial operations.
Fluency in English is a must, fluent German is a plus.
Benefits
Agile teams & active participation: We work in an agile way and develop solutions for our target groups in a cross-team way. Using KPIs, our teams set their own targets, aligned with our strategic company targets.
Extensive onboarding: As part of our cross-team onboarding, you will gain insights into each of our teams as well as our company culture and values. In addition, all newbies get an onboarding buddy whom they can ask for advice on all matters.
Growth mindset: We support your individual learning needs, since we believe that learning as well as personal and professional development is key for success.
Team work makes the dream work: ... that's why we meet monthly for joint team events, as well as once a year for a team retreat.
Joint lunch breaks: We work with a delivery service that delivers your individually selected lunch to our brand-new office in central Munich - in reusable containers, of course.
Work-Life-Integration: We have 28 days of holiday per year as well as further days off between Christmas and New Year. In addition, we offer you a hybrid work set up to have the best possible work-life-balance.
Sustainable transportation and corporate fitness: We subsidise public transport tickets or a JobRad membership. Alternatively, you can choose to go for an EGYM Wellpass membership.
Because mental health matters: You'll have access to the platform nilo.health and the opportunity to participate in six free and individual sessions per year with a psychologist or business coach.
Bewerbungsprozess
We believe in mobility without emissions, working in harmony with both people and the environment. For this reason, we are creating technology to enable everyone to set up and operate their own charging infrastructure on a decentralised basis. With our bespoke charging platform, we make a significant contribution to building a global charging network.

Our team is based on an open, diverse culture in which everyone is responsible for their own work. With us, you will have the space to realise your own ideas and to grow as an individual. The desire to change something drives every one of us. Become a part of our team and be inspired by our vision.
reev GmbH
Wir glauben an Mobilität ohne Emissionen, die im Einklang mit Mensch und Umwelt steht. Aus diesem Grund definieren wir neue technische Standards, die es jedem/jeder ermöglichen, eine eigene Ladeinfrastruktur aufzubauen und dezentral zu betreiben. Wir leisten mit unseren Lösungen rund um unsere selbst entwickelte Lade-Plattform unseren Beitrag zum Aufbau eines globalen Ladeinfrastruktur-Netzwerks.
Unser Team setzt auf eine offene und heterogene Kultur, in der selbstbestimmt gearbeitet wird. Bei uns findest Du Raum, Deine eigenen Ideen zu verwirklichen und über Dich hinaus zu wachsen. Der Wunsch etwas zu verändern, treibt jede(n) einzelne(n) von uns an. Werde Teil unseres Teams und lass Dich von unserer Vision inspirieren.
Nachhaltigkeitsziele
Umwelt schützen
Entwicklung alternativer, umweltschonender Produktlösungen
Unser Ziel ist es, alltagstaugliche Produkte und Dienstleistungen auf besonders umweltschonende Weise oder mit einem direkten positiven Umwelteinfluss zur Verfügung zu stellen.
Förderung von erneuerbaren Energien
Wir verabschieden uns von konventionellen Energieträgern wie Erdgas, Kohle, Öl und Kernbrennstoffen und begrüßen alle Formen der regenerativen Energien. So wollen wir einen Beitrag zu einer dezentralen, klimafreundlichen und modernen Energie- und Wärmeversorgung leisten.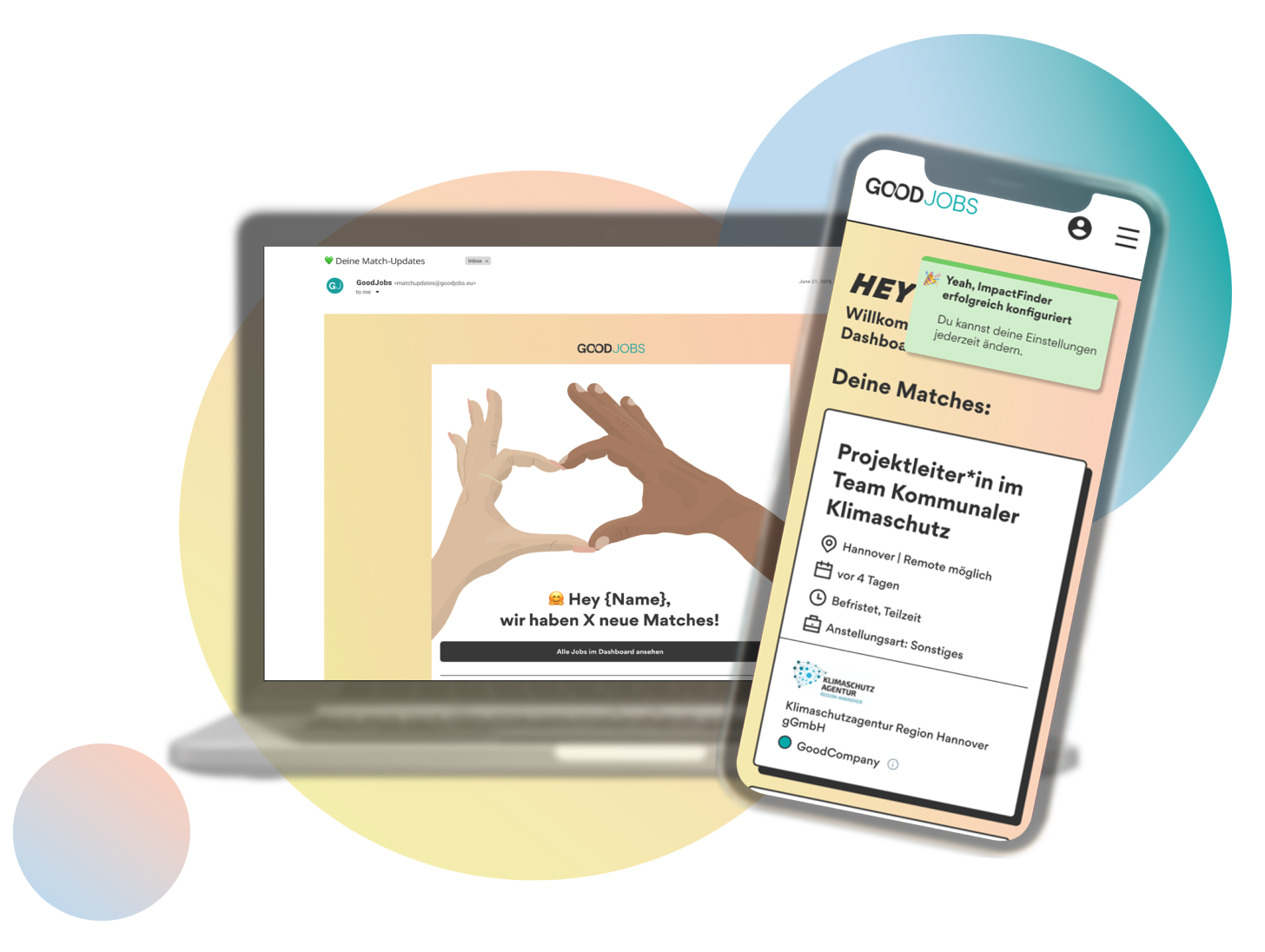 Weitere Jobs, die zu deiner Suche passen, erhalten?
Finde mehr Jobs wie diesen mit unseren personalisierten Jobempfehlungen